There are many types of hernias as there are several points of weakness between the abdominal muscles. Hernias can cause serious issues if intestine gets trapped into them. As they enlarge, they may become harder to repair. This is why it is important to see a specialist doctor at The Surgeons Collective, if there is even a suspicion of a hernia.  At The Surgeons Collective, our experienced specialist doctor will help you with a personalised treatment plan, expert surgery and genuine care.
An incisional hernia occurs at the site of a previous surgical scar. The incisional hernia can appear long after you had the surgery, and it can vary in size.  When it widens, it may become hard to repair, cause serious complications as it may trap part of the intestine. When bowel tissue is strangulated, blood supply can cut off and this may cause a life-threatening condition that requires emergency surgery. This is why it is important to speak to one of our specialist surgeons, if you believe that you may have an incisional hernia.  Our surgeons treat incisional hernias with both open and laparoscopic surgery. Our first step is to provide a comprehensive assessment, clear communication, support and excellent care so we can plan the most effective treatment for you.
Inguinal hernias or groin hernias are the most common type of abdominal hernias. Inguinal hernias occur in both men and women, but they are much more common in men.
An umbilical hernia occurs when the intestine or a piece of fat protrudes between the abdominal muscles at the belly button. An umbilical hernia doesn't resolve through natural healing, and may become more dangerous over time. In surgery, the intestine and abdominal lining are pushed back and the hole in the abdominal wall is repaired, usually with the insertion of a synthetic mesh to strengthen the area.
A femoral hernia is a bulge of intestine or fat situated next to the femoral artery, in the lower part of your groin.  Your muscles are usually strong enough to keep your intestines and organs in their proper place. But sometimes your intra-abdominal tissues can be pushed through a weakened spot in your anatomy when you overstrain. If a portion of tissue pushes through the wall of the femoral canal, it's called a femoral hernia.  Women are more likely than men to suffer from a femoral hernia and they are often linked to a weakening of the femoral canal during pregnancy. A femoral hernia will appear as a bulge near the groin or thigh. It's fairly small (the size of a grape) and therefore most people don't experience any symptoms. Femoral hernias often contain intestine and may strangulate and become emergencies. Pre-emptive treatment is necessary even if your hernia is small.
Our specialist surgeons perform open and laparoscopic surgery for umbilical hernias in adults, as well as for femoral hernias or other types of hernia.  
An epigastric hernia is caused by a weakness in the abdominal wall, above the belly button and below the sternum of the rib cage. It is quite common in adults and children, even in infants. It will show as a bump or a small mass of fat pushing through the hernia.
An epigastric hernia will not resolve through natural healing, so it is important to obtain a thorough diagnosis from our specialist doctors at The Surgeons Collective. Surgery is known to be the only way to repair an epigastric hernia to avoid the risks of the hernia causing further complications.
Our team will support you to plan your surgery, with one of our leading expert surgeons at The Surgeons Collective Perth, and we will also assist you with dietary and aftercare support if needed.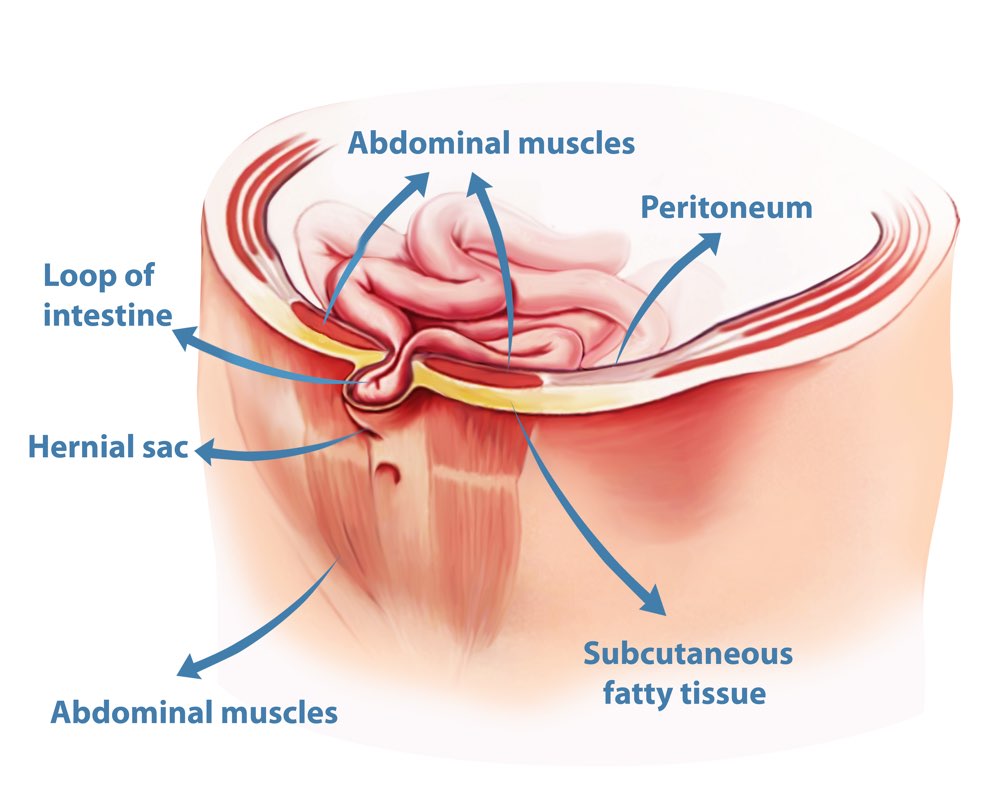 A spigelian hernia is a rare form of hernia which develops between the rectus muscles (six packs) and the lateral muscles of the abdomen. It is more frequent in men than women. They are often a good indication for laparoscopic repair.
THE SURGEONS COLLECTIVE
McCourt St Medical Centre
Level 1, Suite 10, 2 McCourt Street
West Leederville,
Perth 6007, WA

WE ARE OPEN
Monday - Thursday | 8.30am - 4.30pm
Friday | 9:30am - 4.30pm
Get a professional opinion and treatment plan from our team of specialist practitioners. Your health is our priority.